Hoverboards are quite on the trend these days, so, if you're tired of seeing your children stuck on their iPads then it's time to get them a hoverboard. Children love hoverboard not only because it's trendy but also because it makes them look cool as well. That's why we decided to go for our best hoverboard for kids piece today.
As the hoverboards are somewhat on the hype these days, it makes quite an awesome gift as well. The best part is, in this era of technology the children will get to have some fun with some bits of physical activity. It might take a while in the beginning to have proper balance but once they get a grasp on it, there's no turning back.
Sometimes it gets extremely confusing as there are countless different hoverboards in the market with a different brand, budget range, design, quality, etc. Well, we have come up with this review to make that daunting task easier for you.
Since the board is designed for children, the best ones should provide the maximum amount of safety and ensure quality. The best hoverboards for children feature top-notch build-quality, proper speed ratio, and great charge time.
Out of the gazillion different models out there, we have picked ten best hoverboards for children as we don't want to make any compromise when it comes to children and we want to ensure that you get your children the best of the bests. Let's take a look at our top ten picks. So sit tight (literally) and let us walk you through the best hoverboard for kids in today's market.
Top 10 Hoverboards In The Market
Our reviewed top 10 hoverboards for kids are:
TOMOLOO Music-Rhythmed Hoverboard
Razor Hovertrax 2.0 Hoverboard Self-Balancing Smart Scooter
Swagtron Swagboard Twist Hoverboard
CHO Electric Smart Self Balancing Scooter
Swagtron Swagboard Outlaw T6
HYPER GOGO Hoverboard
Segway miniLITE
Swagtron Swagboard Vibe T580
XPRIT Hoverboard
Gyroor Warrior All Terrain Off Road Hoverboard
TOMOLOO Music-Rhythmed Hoverboard
If you're worried about your child's safety then the TOMOLOO Music Rhythmed Hoverboard is a perfect choice for you as it's made following the highest safety standards. It's a self-balancing scooter with advanced technology which is extremely suitable for the children who're using the board for the first time.
Our Analysis
This scooter will leave you no room for judgment when it comes to the quality of the product as you'll be amazed to know that all their materials and manufacturing processes are quite similar to the iPhone. It has an incredibly high-temperature resistance with an impressive strength level that can take some heavy beating at ease.
It features Bluetooth 4.0 technology which lets you control everything with your phone. Due to its improved mainboard program, the children can have a smooth as well as a stable riding experience.
It has an outstanding design with stereo surround sound and RGB LED design which will provide colorful lighting during the ride. The LED lights synchronize with the music and twinkles with the beats of the music.
The best part with this scooter is, this is also suitable for adults, therefore, you can also have an occasional ride on it too. Why should kids have all the fun, right? It can run with a speed of 12km/h and can accommodate riders with weight up to 220lbs.
You'll receive a 1-year warranty for the wheel hub motor, controller and battery. There will also be a 6-months warranty for the charger from the date of purchase.
Pros
Synchronized LED lights
1-year warranty
High-temperature resistance
Can run with high speed
Cons
Warranty is less for the charger
Razor Hovertrax 2.0 Hoverboard Self-Balancing Smart Scooter
Having a hoverboard is every child's dream days, therefore, it will be a perfect gift if there's a birthday coming up. Razor is one of the most prominent names when it comes to hoverboards and they have already set their benchmark for self-balancing scooters. The Razor Hovertrax 2.0 Smart Scooter is an outstanding choice for first-timers as it features a self-balancing mechanism.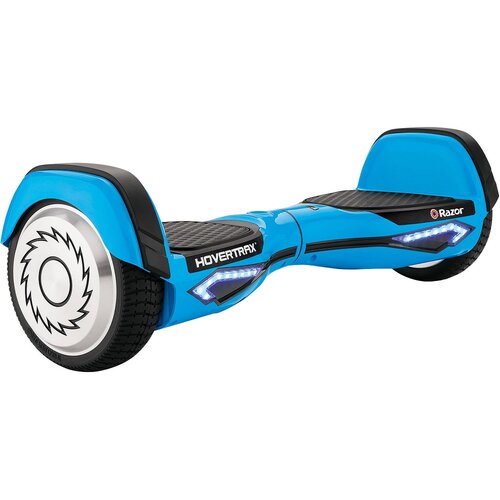 Our Analysis
When it comes to design, the Hovertrax 2.0 has outdone previous models by Razor. Along with premium looks, it has one of the safest body material that offers phenomenal durability which will enable the kid to have all the fun in the world while staying safe.
Razor made the scooter with the utmost care and it is UL 2272 certified which ensures the maximum amount of safety. It has also been tested for harmful emissions and it has proven to absolutely environment-friendly and safe to use.
The Hovertrax 2.0 will provide you with the smoothest ride ever. The speed can reach up to 8 km/h hour, however, the speed is highly dependable on the slope of the road and the weight of the person traveling, battery life, etc. The minimum weight supported by this scooter is 40lb and it can easily accommodate up to 220lbs.
On a single full charge, the board can move for an hour without interruption. Make sure you charge it properly before the rides to ensure the best hoverboard experience. The battery has also gone through multiple safety, therefore, it's absolutely safe for the kids to use.
Pros
UL 2272 certified
Long battery life
Sturdy build quality
Cons
Takes up quite a while to charge fully
Razor Hovertrax 2.0 Hoverboard Self-Balancing Smart Scooter
Safety
Design
Speed & Weight
Battery Life & Durability
Budget
Swagtron Swagboard Twist Hoverboard
The Swagtron Swagboard Twist Hoverboard is one of the best Hoverboard out there as it offers incredible durability with a very budget-friendly price tag. One of the best features of this scooter is that it incorporates startup wheel balancing technology that makes it super-easy to mount or dismount. It's a perfect fit for the novice riders who have little to no experience.
Our Analysis
The Swagtron Swagboard is synonymous with durability. It's crafted with ultra-strong 250W hub motor inside the 6.5" wheels for superior power and performance. It can accelerate to up to 11 km/h to give you the ultimate racing experience on all sorts of road conditions.
Along with phenomenal performance, Swagtron has also ensured quality. The scooter is UL2272 certified which ensures that the board offers a high level of electrical performance and charging. It can hold rider with weight up to 250lbs which is a lot more than other scooters in the market. This self-balancing scooter can also run down slopes as steeps as 30-degrees without making a hitch.
One of the best features of the Swagtron is that it also lets you enjoy a ride out with utmost safety even after sundown as it incorporates headlights which will light up your path and alarm the pedestrians and nearby cars. There are also two indicator lights that will keep you updated with the battery life and errors so that you never have to stop the board because it ran out of charge all of a sudden.
Of course, there had to be enough reasons for us to put this in the list of the best hoverboard for kids, right?
Pros
Can ride on all sorts of terrains
Affordable
Powerful motors
Indicator lights
CHO Electric Smart Self Balancing Scooter
There's no doubt that kids like colorful flashy things. If you want a looking for a hoverboard with outstanding performance and funky looks then the CHO Electric Smart Self Balancing Scooter is the one for you. It comes in a whopping 9 different ranges from neon green to carbon black, you'll find it all with this scooter.
Our Analysis
Along with incredible looks, the CHO self-balancing scooter also performs incredibly well. It has a superb built quality that can take some heavy beatings. It is UL2272 certified which ensures that the board comprises of quality charging and electrical performance.
The wheels are sized at 6.5 inches and offer incredible durability and longevity. It can reach a maximum speed of 12 km/h and run on steep slopes. The wheels also flash in a random manner which will also help you stand out in the crowd. The flash will also keep you safe after sundown as it'll alert the passerby and cars on the road.
Being a self-balancing scooter, it's an outstanding choice for the beginners and amateurs who've just started their hoverboard journey. It's super easy to control and people from any age can ride in with ease. With its amazing balancing technology, you'll be able to master the art of hoverboard riding within minutes.
One of the coolest features of the CHO scooter is that it comes with a built-in wireless speaker which will enable you to enjoy your favorite music or audio book without even wearing a headphone. The phenomenal sound quality will certainly make you the coolest kid in the block.
Pros
9 different color options
Suitable for beginners
Built-in wireless speaker
Swagtron Swagboard Outlaw T6
Swagtron hoverboards never fail to amaze us and the Swagtron Swagboard Outlaw T6 is another outstanding creation them. Even though the price is a bit on the steeper side but it'll last you a very long time which makes it worth every penny.
Our Analysis
The Swagboard T6 is one of the finest hoverboards there is which is not only appropriate for children but also an amazing choice for the grown-ups. Swagtron believes that people with size and shapes should be able to experience the fun of hoverboard riding. This scooter can handle weights up to 420lbs so along with kids, the adults can also enjoy some rides on it too.
This scooter is available in three different color variations: black, desert camo, and pink camo. It provides safety against dirt and water so that you can cruise along with all kinds of terrains without any fear of damaging the board.
It comes with shock-resistant 10″ air-filled, nylon-infused tires that provide amazing stability as well as comfort on all sorts of road conditions. With the rugged thread pattern, the tires will also provide the ultimate traction which will enable you to be in control at all times. No matter how steep the road is or how rocky, you'll fly by it anyways.
The Swagboard T6 features dual motors and SentryShield lithium-ion battery which will enable you to reach up to a maximum speed of 12 miles per hour. It only takes 2-3 hours to fully charge the battery which will enable you to ride it for hours.
Pros
Available in three different colors
Shock-resistant nylon-filled tires
The maximum speed of 12 m/h
Takes only 2-3 hours to fully charge
HYPER GOGO Hoverboard
The HYPER GOGO Hoverboard is as cool as its name sounds. Thanks to excellent build quality which will give the kids the best hover riding experience. The electric smart self-balancing technology makes it easy as a breeze to ride even for people with little to no prior experience.
Our Analysis
It has a super sturdy and robust build quality that's made to last. The board is approved by CPSC, UL, CE, RoHS, FCC as it ensures the maximum amount of safety with ultra-fine performance. It's also UL 2272 certified which ensures that it features proper charging and electrical facilities.
This board can raise the maximum speed up to 9 km/h and even at the top speed, it makes no compromise with the safety of the user so that they can enjoy the ride completely. The Hyper GOGO can operate all sorts of terrains, be it a slope or a muddy road, you can ace it all with this board. It's equipped with an ultra-powerful motor of 400 watts on each wheel which can easily climb up the slope with 18-degrees.
Just because it's great for kids doesn't mean that adults can't enjoy the goodness of it. It offers astounding load capacity and it can easily hold up to 120kg so anyone within that weight limit can enjoy a good fun ride. While holding up large weights, it also ensures that ultimate stability during the ride. It charges up super-fast and it takes about 2-hours to fully charge it which will let you ride it for 60 minutes non-stop.
Pros
Approved by multiple safety checks
Large weight limit
Suitable for beginners
Cons
Not suitable for very steep slopes
Segway miniLITE
The Segway miniLITE is not a regular hoverboard, it's rather a personal transporter. It has a very flexible and comfortable design which is suitable for kids with 6 years and above. It comes with 700 watts of engine power on each tire which will enable you to have fun and speedy ride with utmost safety.
Our Analysis
It's a smart self-balancing scooter that suitable for all experience levels. Even if you have no prior experience with hoverboards, you can ride this bad boy like a pro. You no longer require hours of practice as you can learn to ride within minutes with the help of precision sensors and the intuitive knee control bar. The padded knee bar reduces fatigue and also enhances the comfort level for the kids.
The design of the Segway miniLITE is quite different than the hoverboards that we reviewed. It has a smart road-adaptive design with 10.5-inch air-filled tires that can run through slopes, grass or any other terrain with ease. It has a super compact design which makes it easier to control. The knee control bar is detachable so you can store it even within little storage space.
The miniLITE can reach a maximum speed of 10 miles per hour and with one full charge, you can cover up to 11 miles easily. There's a customizable LED light that ensures proper rear and front visibility during both day and night. There's also an app that will guide you to safely learn and understand all the processes related to the Segway miniLITE.
Pros
Suitable for all experience level
Maximum speed of 10 miles an hour
LED lights
Easy to control
Swagtron Swagboard Vibe T580
The Swagtron Swagboard Vibe T580 is a superb creation by Swagtron that will take your hoverboard riding experience to a great new height. It comes in three vibrant colors, therefore, you get the flexibility to choose the color that brings out your inner "swag".
Our Analysis
Swagtron never makes any compromise when comes to the safety of the rider. They have ensured the utmost safety with all their scooters and this one is also no different. The Vibe T580 is UL certified where it has to go rigorous electrical and safety tests to ensure the safety of the unit.
It features a robust build quality that's made to last. It comes with an incombustible casing and SentryShield technology which protects the scooter and provides durability. This board is a great fit for newbies as it features simple as easy start, stop, and balancing mechanisms.
As soon as you step on the non-slip foot pedals, it'll activate the sensors on the non-slip foot pedals and the ultra-powerful dual motors. It incorporates dynamic equilibrium which will enable you to choose the path you ride on and the speed with just the shift of your weight on the wheels.
It has a super-fast charging system and with one full charge, it can cover up to 8 miles easily with a maximum speed of 7.5 miles per hour. It can carry weights from 44lbs-220lbs which makes it an ideal choice for children with all shapes and sizes.
Pros
Powerful dual motors
Aesthetic design
Durable
Suitable for rough terrains
Cons
The maximum speed is only 7.5 miles per hour
XPRIT Hoverboard
If you're in search of a budget-friendly hoverboard with mind-blowing performance then take a look at the Xprit Hoverboard as it offers incredible performance at a very affordable price tag.
Our Analysis
The Xprit Hoverboard features cutting edge gyroscopic technology which helps the rider to easily mount the board. Being a self-balancing scooter, it's a perfect choice for the people with no prior hoverboard riding experience as it'll help them to easily find themselves on the board.
Along with incredible performance, the Xprit is quite a winner in the appearance department as well. It comes in a whopping 6 different shades so that everyone can find the color of their choice.
All the models come with LED lights & bluetooth speaker which enhances the overall aesthetics of the scooter. Xprit is also UL certified which ensures that it has passed through all the necessary safety measures. It can hold weight up to 165lbs which makes it a great fit for the kids.
The wheels of the Xprit are sized at 6.5 inches with a firm rubber tire that's designed to perform on all sorts of terrains. From mountains slopes to muddy grass, it can run about all sorts of places without a hitch. Each wheel is powered by a 200-watt motor which is capable of reaching a maximum speed of 6.2 miles an hour and cover areas up top 6 to 8 miles depending on the weight of the rider and the speed.
Pros
Budget-friendly
UL certified
Powerful motors
Maximum speed of 6 miles per hour
Some models come with carry bags
Gyroor Warrior All Terrain Off Road Hoverboard
The Gyroor Warrior All-Terrain Off-Road Hoverboard does justice to its name and it's indeed a warrior. Gyroor emphasizes heavily on safety and the Warrior Off-Road has passed all the UL tests successfully making it one of the safest hoverboard there is.
Our Analysis
It's made with high-quality durable aluminum which makes it super-strong and durable. The ultra-strong body ensures that it can pass through all sorts of road conditions without damaging the body of the scooter. It comes in four different color variations so that the kids can choose the one they like the most.
When it comes to safety, Gyroor makes zero compromises with it. The Warrior Off-Road is UL2272 certified which ensures that the scooter has been thoroughly tested for electrical and safety checks. The self-balancing technology makes it an excellent choice for the novice riders as you can master the riding techniques within minutes.
The Gyroor Warrior features 8.5-inch rubber solid tires that can run smoothly on all terrains. The 700-watt motor gives the scooter the ultimate power to ride through muddy roads, wet surfaces, and even steep slopes. It can easily run along slopes inclined at 30-degrees so that the kids can cruise along and have all the fun in the world.
One of the funkiest features of the Gyroor Warrior is that it comes with built-in high-quality speakers which will allow you to play your favorite music when you're riding the board. So, even if you're riding alone, you'll be accompanied by the blissful music of your choice.
Pros
Sleek design
High-quality tires
Built-in speakers
Can run through rough terrains
Gyroor Warrior All Terrain Off Road Hoverboard
Safety
Design
Speed & Weight
Battery Life & Durability
Budget
Here's What We Based Our Review On
Safety
Safety is one of our top concerns when it comes to hoverboards for children. People generally have a misconception that the slowest hoverboards are the safest. Well, that's not the case.
Speed is certainly one issue on which the safety of the board relies on, however, there are several other factors such as the weight of the rider, battery condition, tire material, etc. are also equally important when it comes to safety.
There have been several cases where the board was caught on fire due to overcharging the batteries. Hoverboards that are UL 2272 certified will provide you the maximum amount of electrical safety. All the products that we reviewed in this article are UL certified, therefore, these are absolutely safe to use by the children.
Design
Even though the basic structure is the same for all the hoverboards, the design varies from product to product. Each hoverboard has its own distinctive shape and design which helps to bring variations among the products. Since kids are into colorful things, we have featured several hoverboards with funky color ranges which will help the kids to stand out in the crowd while having a fun time riding the board.
Budget
The budget is crucial for every purchase decision. Hoverboards come in a wide variety of price ranges and in this review we have featured hoverboards with a wide variety of price range so that everyone can pick up a board for the child according to their convenience.
Speed
Speed is a major concern when you're shopping for hoverboards. When you're buying boards for the children, it's necessary that the speed doesn't rise too high so that they face an accident. The parents should ensure that the model they're getting for the child is compatible with the child's age and experience level.
We don't recommend you to go to a hoverboard with a maximum speed above 12 km/h. The ideal speed for children would be 8/9 km/has that would offer a safe ride for the kids. However, if the kids demand a board with a higher speed for a more thrilling ride then you can opt for a board with a maximum speed of 12 km/h but no more than that.
Weight
All the hoverboards come with a weight range in which they operate. Before buying the board make sure your child falls in between the given range otherwise the board will not operate. The weight range generally fluctuates between 44lbs to 220lbs, however, the range usually varies with a different product.
Battery Life
The battery life of the hoverboard is another crucial feature because no matter how great the hoverboard looks, if it has a short battery life or if it takes a very long time to charge up then it's absolutely not worth spending the money on. Hoverboard manufacturers are working on quantum battery now to reduce the charging time.
The benchmark for an optimum level of battery performance is a board that can run for 1 to 3 hours on full charge and covers to 8 to 15 miles on a full charge. Make sure whichever one you opt for, it provides a decent battery life so that the kid doesn't need to stop having a fun ride all of a sudden because the battery went down.
Durability
Like every other vehicle, durability is a must-have feature for hoverboards as well. Keep in mind that kids are not as cautious as older people. Hence, you must go for a hoverboard that can survive through serious abuse.
Since you'll be getting this for your kid, make sure the board is lightweight so that they can carry it back home if the battery runs out.
Tire
Being a vehicle, tires are one of the most crucial features of a hoverboard. Getting the right sized tire is extremely important for having a good time with the hoverboard. Hoverboard tires come in various types of sizes and textures. The traction and grip also depend heavily on the material and the texture of the tires. If you like cruising on rough terrain then make sure the tires are compatible to do that so that they last well throughout the time.
Motor
Hoverboards are equipped with motors on each of the wheels. The more powerful the motor is, the better performance it exhibits. The motor power usually ranges from 200 to 700 watts on each wheel. So, the bigger the wattage rating, the better the performance and speed of the hoverboard.
Bluetooth Speaker
Well, technology has our lives a lot better and easier these days. A Bluetooth speaker in the hoverboard is an amazing feature that will make the riding experience a lot more fun and exciting. We have reviewed multiple boards that come with built-in Bluetooth speakers. These speakers let you cruise along the road while listening to your favorite music on the board.
The Bluetooth can be easily connected to your phone and operated from there so that you can browse through your favorite music as well as have fun riding experience.
Balance
Hoverboards are hard to balance and it's even harder for the children. All the hoverboards that we reviewed in this article are self-balancing which means the rider doesn't need to balance the board, rather the board will balance itself. Self-balancing boards are super easy to operate and the kids can learn the techniques of riding it within few minutes.
Some Guideline Tips for the Parents
Kids are quite choosy about their possessions and sometimes parents have a hard time finding the best possible unit for them. With so many different variations out there, it's extremely hard for the parents to pick one hoverboard which will be loved and enjoyed by the kid. To help out the parents, we have come up with a few basic guideline tips that will help the parents choose the best hoveraboard for their kids.
Hoverboard Look & Safety
Kids are mostly into flashy and colorful things. Make sure you have a discussion with your child prior to buying the board. So that you can give them a board of their dream color. In this review, we have featured several different boards with various colors and there are multiple items with a wide range of color variations. So, make sure you take the opinion of your child before buying the hoverboard.
Safety should be one of the prime concerns when you're shopping for children. For some details, you might check our blog on this. No matter how expensive the board is or how well it performs, if it doesn't meet the safety standards then it's not the right fit for your child. There have been many cases when hoverboards caught on fire due to overheating the device and faulty chargers. Make sure the board is UL 2272 certified. This ensures that the board has gone through strict tests for battery and charging.
Bluetooth & Self Balance Feature
Get a hoverboard with Bluetooth speaker as that would ensure more fun and exciting ride for the child. They can listen to their favorite music while cruising down the road. Also, having LED lights in the board will not only make it look cool but also act as a safety feature as it'll alert the pedestrians and nearby cars about the board.
Always opt for a self-balancing hoverboard as it's for children. Self-balancing hoverboards are easier to maintain and control. Also, these boards are super easy to master hence there will be fewer chances for casualties and children can learn it easily.
Weight & Speed Limit
Make sure the board is lightweight as heavier boards are harder to control and carry around. If the board is lightweight then even if the power runs out in the middle of a cruise then they can easily carry it back home.
There's nothing more important than the safety of your child. So, never go for a board with super high speed. The adrenaline rush can be overwhelming but over-speeding may cause fatal accidents. Hoverboards with the speed of 6-10 km/h is an ideal choice. However, make sure you don't go for a board whose speed limit exceeds 15 km/h to avoid unfortunate events.
How to Ride It
I know this doesn't require mentioning but still make sure your child has the minimum idea about how to ride a hoverboard. You can check our 4 Steps Easy Learning blog for some useful techniques.
Maintenance Tips For You
Having proper maintenance will enhance the lifetime of the hoverboard to a great extent. It'll be easier for you if you know how hoverboards work. Nevertheless, since you'll be spending your hard-earned money on the device, following a few simple steps will help you get the best out of it. Let's take a look at a few simple procedures you can perform to increase the durability and longevity of the board.
Our Checklist
Wheels are one of the most essential parts of the board. It's extremely important that you take proper care of them. The wheels should be cleaned regularly in order to get rid of the dirt and debris properly. Also, keep in mind that the wheel is connected to the motor. Hence, if you don't keep them clean, some of the dirt will travel to the motor and eventually clog it.
Before going on a ride, make sure the battery is fully charged. Generally, with a full charge, the hoverboard can run for one to two hours continually without any interruption. You can cover up around 8-15 km with a fully charged battery. So, before stepping out with the board, make sure it's properly charged to have the best riding experience.
Hoverboards tend to heat up after a continuous period of riding it. If you've been riding the board for a long time and it turns hot then give some time to cool down and come to its natural state. This will help to promote durability as well as minimize the risks of accidents.
If you're feeling unstable and wiggly on a self-balancing board, it's probably due to detached and loose pedals. The pedals tend to loosen up over time. So make sure you get it checked by a professional to tighten up the pedals.
Often times the self-balancing hoverboards tend to stop working and it's mostly because some wire is probably released inside. If you face situations like this, you should immediately seek professional help and get the board checked out.
FAQs
Q: Are hoverboards safe for children?
Ans: Yes, hoverboards are safe for the children to use as all the hoverboards that we reviewed in this article are made keeping the safety as their prime concern. The boards need to go through multiple safety checks to ensure that they're safe and suitable for the children.
Q: What is a self-balancing hoverboard?
Ans: A self-balancing hoverboard will balance the vehicle itself and making it super easy to ride on. They're extremely easy to master and anyone can get the grasp of it within just a few minutes. These kinds of boards are a perfect fit for the children as they will automatically balance the board for them and help them to cruise around easily.
Q: How long does it take to charge a hoverboard?
Ans: The charging time generally varies from device to device. Usually, it takes about 2 to 3 hours to fully charge the board and with one full charge, the board can run continuously for an hour or so.
Q: How fast does a hoverboard run?
Ans: The speed is subjective to the performance of the device. Since you'll be getting the board for kids, it's better to opt for the board with the maximum speed limit of 15 km/h and an average speed range between 6-10 km/h.
Wrapping Up
So that was our article about the best hoverboard for kids. Did you like it? It's every kid's dream days to have a hoverboard. Having a hoverboard will not only make your child the coolest kid around the block but also shower him/her with unlimited fun. Hoverboards also make a great gift as well. So, if you're brainstorming about the next gift on your child's birthday then think no more and get your hands on a hoverboard.
In this article, we have picked up ten best child-friendly hoverboards among the wide array of different variants out there. All of these boards are made with high-quality material and prioritizing safety as their prime concern.
We have incorporated the important factors that you should keep into account when you're shopping for hoverboard. So that you can get your hand on the best one.